Just in time for St. Patrick's Day, here's an announcement that might make you think twice about checking out the brunch de jour at your favorite Capital Region Irish Pub this weekend, presumably a hearty serving of kegs 'n eggs or an Irish Eggs Benny with corned beef hash, and think about checking your bags on a transatlantic flight to Dublin instead.
Perhaps one of the Hudson Valley's best kept secrets is that it's hiding a little airport near Newburgh, literally minutes off the Thruway and a stone's throw from the Capital Region, that serves as a convenient and somewhat affordable gateway to Europe.
The Port Authority of NY & NJ runs this little Upstate gem, and the precious micro travel hub is Stewart International Airport.
Last July, flights commenced between Ireland and the U.S. on Norwegian Air, seemingly the Megabus of the skies, and Hudson Valley hearts have been aflutter with wanderlust ever since. This could be just what those who have grown accustomed to the staycation have been waiting for — a cheap trip without the hassle of flying out of one of the big three NYC airports to boot!
More than 130,000 passengers have flown the route since the initial take off, and because the flights have proven to be mega popular, the airline has decided to add additional transatlantic flights from Stewart Airport to Ireland.
Starting April 26, Norwegian's daily nonstop flights between Newburgh and Dublin will increase to two flights per day. And get this, one-way tickets start at $99.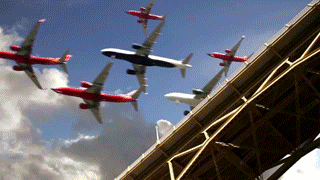 Yeah, you read that right. $99 for a one-way ticket to Ireland sounds too good to be true; heck, it costs at least $50 for a one-way ticket and five-hour-ride on Amtrak to Buffalo. But if your inner jetsetter likes to fly with all the bells and whistles then you might be a tad disappointed to learn that the $99 one-way tickets are pretty basic, and that's because Norwegian flies under a low cost model in which it advertises low base fares but charges extra for a bevy of add-on items. But fear not, because it's easy peasy to fly to Dublin for $99, just pack a carry on and bring a snack if you want to save mega bucks.
Take a look at this rate calendar for May 2018. I chose May to give us some lead time, as we all know the gold rule of air travel: booking closer to departure usually results in much higher fares. I was all over Norwegian Air yesterday, verifying the plethora of flights departing Stewart for $99, and my eyes did not deceive me. The airline fairies must have been working over time last night, because the fares have since dropped to $89.30 as of this morning. WooHoo! Pocket that extra Jackson for a Guinness because you earned it, bargain shopper!
Of course, the fares displayed are the Low Fares, the pay-for-what-you-need fares, and for an additional $70 you could upgrade to LowFare+ and get up to two meals on board, a seat reservation, and one checked bag, but why would you want to do that? Airplane food? Yeah, that's gonna be a 'No' from me, dawg. Contracting food poisoning on a 2005 transatlantic flight to Turkey is enough for one lifetime.
Sure, the flyer saves $35 by bundling all those together in lieu of tacking on each luxury separately; however, survey says you can suck it up, pack a snack, stuff a carry-on, pop some Tylenol PM, and get some shut eye until you wake up next to a leprechaun. Who needs an advanced seat assignment? Take a cue from Southwest and just embrace the mass boarding. Also, when's the last time you purchased a meal on Amtrak? The Snack Car has been shuttered for years, so you're used to bringing your own snacks on board when you travel anyway. For a $244 round trip flight, including all taxes and fees, you can handle brown bagging it.
If you haven't had a Guinness in a pub in Ireland, then have you really lived? Add it to the bucket list because it's not too late — now you can fly to Ireland for roughly the same time, aggravation, and dough you'd shell out to drive or Amtrak it all the way to Buffalo, NY from the Capital Region. I say roughly because of course there are pros and cons to all of the aforementioned methods of travel, (right, Taylor?), but maybe it's time to spread your wings and replace that Amtrak ticket, toll booth receipt, and Labatt Blue with a boarding pass to Ireland and the mother of all Irish stouts. I hear the whiskey isn't too bad either.
This isn't just a one way street; officials believe the increased flights from Dublin into the Hudson Valley will boost the local economy. In fact, a new shuttle service will bus passengers arriving from Dublin to and from Woodbury Commons so they can shop 'til they drop. The departing bus is scheduled to bring passengers back to Stewart Airport in time for an evening departure. Why shop in your home country when you can fly to New York, amirite? Sounds fancy.
So take it from me, some countries are just meant to be seen from the road, and Ireland is definitely one of them. One of the best vacations of my life was when my father and I flew to Ireland, rented a car, and set out (on the wrong side of the road) to take in all the sights, sounds, and majestic, raw beauty this magical island as to offer!
This slideshow requires JavaScript.
In closing, let me leave you with a little lyric I scribbled, an Irish Blessing, from me to you: *ahem*
May your troubles be less, may your blessings reach far,
grab yourself a plane ticket, and a seat at a real Irish bar!
---
---
Two Buttons Deep is a news & entertainment website based in upstate New York.
We don't just post the news, we post stuff worth talking about…
Visit our newsfeed, and stay up to date on Facebook, Twitter, and Instagram.