There was real, live, professional football on CBS and the NFL Network this weekend as the Alliance of American Football kicked off its inaugural season. The new league boasts 8 teams, 4 games a week (2 Saturday, 2 Sunday), a few rules differences from the NFL, and some interesting uniforms. The overall on-field quality may not have been great in week 1, but football is a lot like pizza; even when it's bad, it's still pretty good.
Out of the 8 teams, there are a grand total of zero (0) teams located farther North or East than Memphis, Tennessee freeing us North-easterners to pledge allegiance to any of the 8 teams in the league. Let's take a look at our options.
The Teams
Arizona Hotshots
Named after the firefighters of the local region, nicknamed "Hotshots".
Home Stadium: Sun Devil Stadium, Tempe, AZ
Coaches or players you may have heard of:
WR Josh Huff (University of Oregon, Philly Eagles)
K Nick Folk (Cowboys, Jets, Buccaneers)
Offensive Coordinator Hugh Freeze (Former Ole Miss Head Coach, fired for multiple recruiting violations, yikes)
Atlanta Legends
Known as the legends to pay tribute to famous figures from the ATL, Martin Luther King Jr and Hank Aaron.
Home Stadium: Georgia State Stadium, Atlanta, GA
Coaches or players you may have heard of:
Head Coach Brad Childress (Former Minnesota Vikings Head Coach)
Offensive coordinator Michael Vick (Falcons, Eagles, Madden 2004 Cover, best Madden QB of all time)
QB Aaron Murray (University of Georgia)
WR Ervin Phillips (Syracuse)
Birmingham Iron
Birmingham is also known as "the Iron City". Legion Field hosted 53 of the first 63 Iron Bowl match-ups between Alabama and Auburn. They probably the best logo in the league:
Home Stadium: Legion Field, Birmingham, AL
Coaches or players you may have heard of:
QB Blake Sims (Alabama)
RB Trent Richardson (Alabama, Former 3rd overall pick 2012 NFL draft to the Colts)
WR Amba Etta-Tawo (Syracuse)
Memphis Express
They're the express to emphasize the city's importance as a cargo transport city…sweet!!!
Home Stadium: Liberty Bowl Memorial Stadium, Memphis, TN
Coaches or players you may have heard of:
Head Coach Mike Singletary (SB Champ with the '85 Bears, former 49ers Head Coach)
QB Christian Hackenberg (Penn State, Jets)
RB Anthony Manzo-Lewis (UAlbany)
P Brad Wing (Eagles, Steelers, Giants)
Orlando Apollos
Named after the Greek God, Apollo becayse of Florida's common connection with the Sun, and NASA's Apollo Program.
Home Stadium: UCF's Spectrum Stadium, Orlando, FL
Coaches or players you may have heard of:
"Head Ball Coach" Steve Spurrier (University of Florida, Redskins, University ofSouth Carolina)
Salt Lake Stallions
"Wild and untamed like the land they'll represent." Great mascot, could've done better with the logo and colors though.
Home Stadium: Rice-Eccles Stadium, Salt Lake City, UT
Coaches or players you may have heard of:
Head Coach Dennis Erickson (Long-time college and NFL Head Coach, most notably coaching the University of Miami during "The U" era)
San Antonio Commanders
A simple tribute to the city's military history.
Home Stadium: Alamo Dome, San Antonio, TX
Coaches or players you may have heard of:
QB Marquise Williams (UNC. Had to reach for anyone on this godforsaken team)
San Diego Fleet
San Diego has very strong ties to our Navy, I like the name and the logo.
Home Stadium: San Diego County Credit Union Stadium (Formerly Qualcomm Stadium), San Diego, CA
Coaches or players you may have heard of:
DE Damontre Moore (Texas A&M, Former Giants first round pick)
Head Coach Mike Martz (Long-time NFL HC/OC, most notably for the Rams with Kurt Warner)
Differences from the NFL
It's still full-contact, 11-on-11 football, just with a few twists:
No kickoffs (4th & 12 from your own 28 instead of onside kicks (only allowed when trailing with l5 minutes or less remaining or by 17+)
They're obviously trying to make the game safer, but I disagree with eliminating kickoffs altogether. Special teams are a huge part of football, they could have an should have found a way to keep kickoffs in.
Only 2-point conversions allowed
LOVE this. Going to make betting point spreads and lines an absolute nightmare, but all the more fun.
Real-time penalty reviews from "Sky Judge" booth official to confirm/overturn missed calls
I can hear Saints fans groaning all the way from my apartment in Troy. I like the move, it's good to keep everyone happy with correct officiating, I just hope these reviews don't delay the game as much as we see in the NFL these days.
Limited blitzing: maximum 5-man rush allowed
I can see how this rule has gotten some hate from football fans, but as a former coach, I think it's a good move. This league is meant for players who need to further develop their game after college to eventually make it to the NFL. That means young offensive lineman and young Quarterbacks. Keep the defenses simple for more offensive success.
***I'm not at all sure of specifics*** but there would a storm of yellow flags if this hit happened in the NFL
Or this one
Good, old-fashioned hits there with no flags. I am absolutely for player safety, but I am also of the mindset to let the men play the game the way it was meant to be played.
My Declaration of Fanhood
Because of their beautiful all black uniforms, and having traveled to Birmingham, Alabama twice in the last 3 years, I am 100% an Iron fan.
They got their existence off to a great start with a dominating 26-0 win over the Memphis Express. You can't be named the Iron and not have a stout defense. Here's the full Week 1 scoreboard: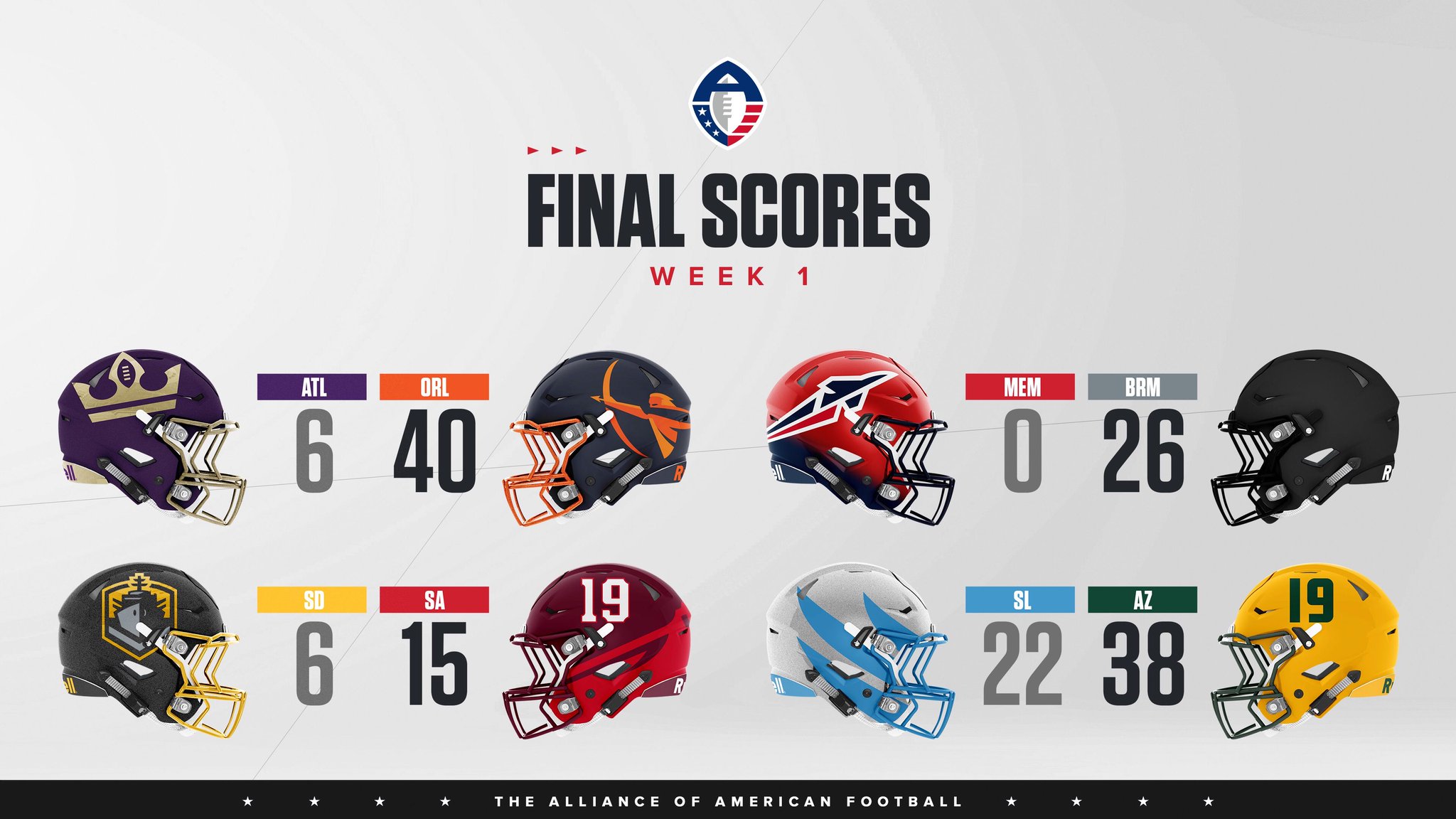 It got off to a hot start with their perfectly timed debut the week after the Super Bowl and I can't wait for week 2 of the Alliance. It will be interesting to see how the league fares as it ages, but I have a feeling the AAF is here to stay. With co-founder and long-time NFL executive, Bill Polian and former NFL players on staff including Justin Tuck, Troy Polamalu, Hines Ward, and Jared Allen, I don't see why the Alliance can't get legs and become the premier development league for the NFL.
Go IRON!